I have been cloth diapering my kids for almost three years now and I was never brave enough to try a prefold. I was happy with my pockets and aios but after I started using fitteds I really wanted to try out some prefolds.
My husband and I went to a local cloth diaper shop and I decided to take the plunge. I bought a six pack of prefolds, two snapis ( there was no way I was trying pins ) and a brown cover. When we got home that night I started the prepping process and a couple days later I used the prefolds.
Here is a picture of her first time in a prefold: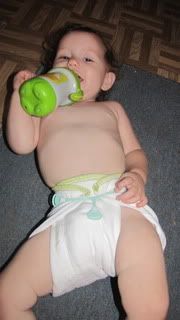 and with the cover:
I can not believe how much I love my prefold diapers, the are really easy to use, really easy to clean and I love shopping for cute covers. This is one of the newest covers I have:
If you are a cloth diapering mama and have not yet tried using prefold diapers I highly recommend getting them, you will be pleasantly surprised.